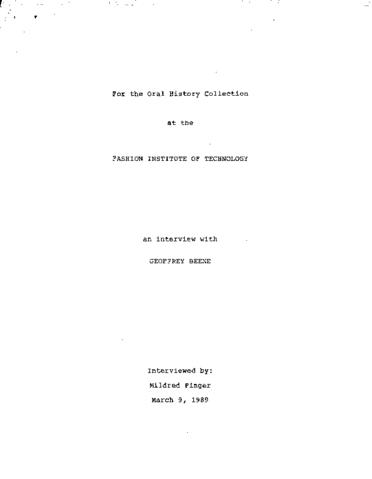 Identificatie
referentie code
US NNFIT SC.FITA.3.20.4.9.1.17
Titel
Geoffrey Beene interview, 1989 March 9
Datum(s)
1989 March 09 (Vervaardig)
Omvang en medium
Original media: 1 audio cassette
Context
Naam van de archiefvormer
(1927-2004)
Biografie
American fashion designer. A modernist, Beene's inventive geometric cuts and in-depth understanding of the human body made him one of the most innovative designers of the 20th century.
In deference to a family tradition, Beene enrolled as a pre-med student at Tulane University in 1943, despite his childhood penchant for fashion. While at Tulane, Beene was notoriously caught sketching the gowns designed by Hollywood costumer Adrian in his anatomy book. Three years later, he withdrew from Tulane University and moved to Los Angeles, where he became employed in the display department of the store I. Magnin. In 1947, he moved to New York to study at the Traphagen School of Fashion, but having concluded that the focus of postwar fashion had shifted to France, Beene transferred to Paris's Ecole de la Chambre Syndicale de la Haute Couture Parisienne the following year. During his two years at that institution, he also studied life drawing at Académie Julian, and in the evenings was apprenticed to a master tailor for the couturier Edward Molyneux. As an apprentice, Beene honed his skills in construction and cut, acquiring in turn an appreciation for subtle elegance that would become a key element of his designs in the years to come.
By 1951, Beene had returned to New York. In 1952, he began his fashion career in earnest as the in-house designer for Harmay. His design talents were soon recognized by Harper's Bazaar editor Carmel Snow, who selected one of his dresses to be featured in the magazine. In 1963, immediately following an eight-year turn with the design house Teal Traina, Beene launched his own company, Geoffrey Beene Inc., on Seventh Avenue. Beene's awareness of a woman's desire to express her individuality through dress gained further prominence in his designs, and he began experimenting with his 'architectural' dresses, loose-fitting garments that belied their heavily structured interiors. By the late 1960s, Beene's fascination with popular culture began to influence his work and his collections increasingly reflected a modern sensibility. Iconic designs produced during this period, such as his sequined football jersey dresses (1967), the 'Gangster' collection (1968) and evening dresses crafted from sweatshirt fabric introduced a relaxed spirit to the world of high fashion, marking the beginning of Beene's design evolution.
Beene became one of the first American designers to produce a secondary line of more affordable clothing, when in 1971 he launched his Beene Bag label. At this point in his career Beene began to rethink the relationship between clothing and modern living. Believing that the body should define the shape of a garment, Beene used less structured fabrics, such as jersey, to produce softer and more fluid designs. However, these designs were widely criticized by a skeptical American fashion press. In 1976, aware that European endorsement would promote acceptance of his designs at home, Beene became the first American ready-to-wear designer to show his collections in Europe, where they were well received.
It was not until the early 1980s that Beene initiated what he called his 'true glorification of the body'. Through unique cuts, seaming techniques, sheer panels and color changes that served to accentuate specific areas, he focused his designs on parts of the female body seldom considered. Incorporating the use of triangular panels in his 1984 collection, Beene presented a novel method to alternatively reveal and conceal the body. These geometric cuts sculpted the body while permitting more fluid movement. His single seam and curved seam dresses, produced during the mid-1980s, remain among his most significant contributions to fashion. Beene's pairing of contrasting fabrics, such as melton wool and point d'esprit lace, was quickly established as a design trademark, giving his designs a playful, irreverent quality. Through careful refinement of such methods, the progression of Beene's innovative design techniques and ideas continued into the 1990s (see fig.).
Beene defied conventions throughout his lengthy career, forging his own path until his death in 2004. His fashion shows, for example, featured dancers in avant-garde presentations intended to accentuate the kinetic qualities of his garments rather than showcase supermodels on a catwalk. Often overlooked by the media, Beene's contributions to the world of fashion were nonetheless honored with eight Coty Awards, and three museum retrospectives: in 1988 at Western Reserve Historical Society in Cleveland and the National Academy of Design in New York, and in 1992 at the Fashion Institute of Technology. Other honors included the Neiman Marcus Award (1965), the Marshall Field Distinction of Design Award (1975), the CFDA Designer of the Year award (1986/87) and an honorary Doctorate of Fine Arts degree from the Rhode Island School of Design (1992). Indeed, his original designs have proven to be timeless classics for the independent woman.
Naam van de archiefvormer
(1924-1995)
Biografie
"Mildred Finger Haines ... helped shape fashion tastes for four decades as a top buyer for department stores and a consultant to clothes makers and retailers.... From the late 1940's through the late 1960's, Mrs. Haines, known throughout her career as Mildred Finger, was a buyer of ready-to-wear at Macy's, Ohrbach's and Bergdorf Goodman, and was one of New York City's most often cited taste makers. At Bergdorf's, in particular, she was noted for bringing European styles to American consumers. She later became Vice President of Charles of the Ritz, headed fashion merchandising for Yves St. Laurent and became an independent consultant, with clients like the Limited and Arthur D. Little. Suffering from multiple sclerosis, she retired in 1986. In succeeding years, she frequently contributed her knowledge of the fashion industry to the oral history projects of the American Jewish Committee and the Fashion Institute of Technology...." New York Times Obituary, 1995
Geschiedenis van het archief
Directe bron van verwerving of overbrenging
Inhoud en structuur
Bereik en inhoud
Waardering, vernietiging en slectie
Aanvullingen
Ordeningstelsel
Voorwaarden voor toegang en gebruik
Voorwaarden voor raadpleging
Voorwaarden voor reproductie
Schrift van het materiaal
Taal en schrift aantekeningen
Fysieke eigenschappen en technische eisen
Toegangen
Verwante materialen
Bestaan en verblifplaats van originelen
Bestaan en verblijfplaats van kopieën
Related units of description
Legacy audio ID no: AOH12
Legacy transcription ID no: T107
Aantekeningen
Alternative identifier(s)
Beschrijvingsbeheer
Identificatie van de beschrijving
Identificatiecode van de instelling
Toegepaste regels en/of conventies
Status
Niveau van detaillering
Verwijdering van datering archiefvorming
Bronnen
Digitaal object metadata
Master file
Reference copy
Thumbnail copy
Digitaal object (Master) rights area
Digitaal object (Referentie) rights area
Digitaal object (Thumbnail) rights area
Voorwaarden voor raadpleging en gebruik