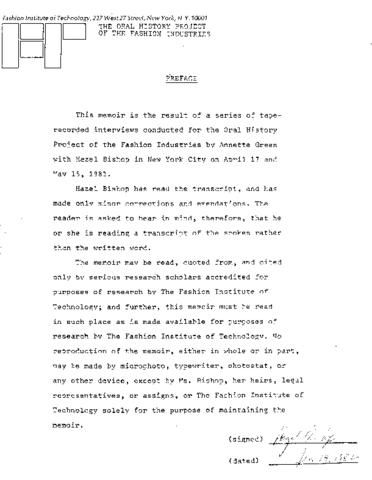 Área de identidad
Código de referencia
US NNFIT SC.FITA.3.20.4.9.1.20
Título
Hazel Bishop interview, 1981 April 17 & May 15
Fecha(s)
1981 April 17 & May 15 (Creación)
Nivel de descripción
Unidad documental simple
Área de contexto
Nombre del productor
(1906-1998)
Historia biográfica
Hazel Bishop was a chemist and invented the first long-lasting lipstick. In late 1948, she co-founded her company, Hazel Bishop, Inc., to manufacture her lipstick. In 1954, she left the company and became a consultant to the National Association of Leather Glove Manufacturers where she developed "Leather Lav," a leather glove cleaner in 1955. In 1957, she created a solid perfume stick called Perfemme. She became a professor at FIT in 1978, teaching in the cosmetics, fragrances, and toiletries department. Bishop helped develop a curriculum whose focus included marketing and merchandising principles, advertising, promotion, and publicity campaign concepts, and product knowledge. She was appointed to the Revlon Chair in Cosmetics Marketing in 1980. She stopped teaching in 1986, though she remained involved with the Fashion Institute as a consultant.
Nombre del productor
(1924-)
Historia biográfica
Annette Green was raised by her mother. She was an only child and lived with her mother in her grandparents house. Green attended NYU and the New School, where she studied Journalism. Her first professional job was at American Druggist, a Hearst publication. She worked as an assistant for George Bender and had her own column marketed to teenage girls. In the mid 1950s, Hearst publications paid for her tuition at a night school where she continued to study journalism. She moved from American Druggist to the DuBarry Success School news letter, where she was the editor of the publication. However, she was unhappy here because of a fraught relationship with her boss. She moved into a position in sales training, working under Chris Chiossi, a woman Green admired. Green wrote speeches for Chiossi. Mcfadden magazine offered Green a position as beauty editor, which Green accepted. She worked there for about a year. She then got a call from an acquaintance telling her that the recommended her for a job as Assistant Women's Page Editor at Scripps Howard. She took the position but was later scouted by Jack Mohr, president of Lenthéric. Mohr wanted Green to be the Publicity Director of the company. Even though she knew nothing about the job, Green accepted. When Lenthéric merged with Olin Mathieson, Mohr left and Green moved into the cooperate department.
Soon, Green left and started her own company, Annette Green Associates, in 1960. Her first major account was Altman, Stroller; Green handled their fashion accounts. A year later, Mohr asked Green to help save the Fragrance Foundation. The Fragrance Foundation was founded in 1949 by the fragrance departments of Chanel, Caron, Guerlain, Coty, and Helena Rubinstein. It was originally conceived as a way to promote the everyday usage of perfume in the United States. By 1961, the foundation was failing, with very few members left. Mohr wanted Green to revive the foundation. She slowly but successfully acquired members, old and new, such as Edouard Cournand of Lanvin and Gregory Thomas of Chanel. Green also wrote a directory of all the fragrance businesses in the industry. Thanks to Green, the Fragrance Foundation became fully established. She continued working with the foundation throughout the 1960s, 1970s, 1980s, and 1990s. Green was president of the foundation from 1963 to 2003. Under Green's supervision, the Olfactory Research Fund was created to support the work of clinical psychologists.
In addition to her work for the foundation, Green wanted to create a program that would teach cosmetics and fragrance practices. She reached out to Shirley Goodman at FIT, who in turn, invited Green to teach a class on the subject one day a week. Dean Jack Rittenberg suggested the creation of an entire program. Hazel Bishop became the head of the program. Green started the Cosmetic/Fragrance ACTION council at FIT, which was made up of professionals to oversee the curriculum. In the mid 1990s, Green published a book, along with fashion journalist Linda Dyett, on jewelry that held fragrance.
"A leader in the fragrance industry since the 1960s, Annette Green originated the FiFi Award in 1972 and is currently President Emeritus of The Fragrance Foundation." http://theanglemag.com/beautify/science-scent/
"Annette Green serves as Business Development Consultant at RMJ Laboratories, Inc. Ms. Green serves as President Emeritus of The Fragrance Foundation. She is considered as an industry futurist, oversaw the fortunes of The Fragrance Foundation for over 40 years and is credited with conceiving and producing the prestigious "FiFi" Awards and for establishing an international presence for the Foundation" -Bloomberg
Historia archivística
Origen del ingreso o transferencia
Área de contenido y estructura
Alcance y contenido
Hazel Bishop, a pioneer in the cosmetic industry, was the founder of Hazel Bishop Inc., which developed an early indelible lipstick. She was the administrative head of Cosmetics, Fragrance, and Toiletries Curriculum of the Fashion Institute of Technology and a financial analyst covering the cosmetic-and-health-related securities for Evans and Company. This interview, conducted in May, 1981, explores Bishop's career growth, her invention of a long lasting lipstick, her experience as a stockbroker/expert on cosmetic stocks, the fragrance/beauty industry as a whole and the opportunities it provides for FIT graduates.
Valorización, destrucción y programación
Acumulaciones
Sistema de arreglo
Área de condiciones de acceso y uso
Condiciones de acceso
Recording is available onsite only.
Oral History recordings are gradually being published online. If this interview is important to you, please contact us, and we will prioritize it.
Condiciones
Notas sobre las lenguas y escrituras
Características físicas y requisitos técnicos
Instrumentos de descripción
Generated finding aid
Área de materiales relacionados
Existencia y localización de originales
Existencia y localización de copias
Unidades de descripción relacionadas
Legacy audio ID no: AOH191
Legacy transcription ID no: T22
Área de notas
Identificador/es alternativo(os)
Puntos de acceso
Puntos de acceso por materia
Puntos de acceso por lugar
Puntos de acceso por autoridad
Área de control de la descripción
Identificador de la descripción
Identificador de la institución
Reglas y/o convenciones usadas
Estado de elaboración
Nivel de detalle
Fechas de creación revisión eliminación
Fuentes
Objeto digital metadatos
Master file
Reference copy
Thumbnail copy
Objeto digital (Ejemplar original), área de permisos
Objeto digital (Referencia), área de permisos
Objeto digital (Miniatura), área de permisos