Affichage de 3 résultats
Description archivistique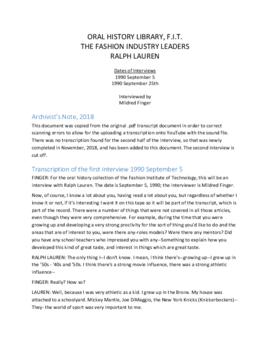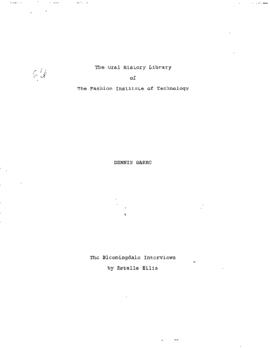 Dennis Garro interview, 1987 January 16
This interview first discusses Dennis Garro's work experience leading up to his move from Macy's to Bloomingdale's in 1986. Garro briefly presents some of the main cultural differences between Macy's and Bloomingdale's as being inherenet within the California culture of Macy's and the New York City culture of Bloomingdale's. Garro shies from comparing Phil Schann (head of Macy's at the time) and Marvin S. Traub (head of Bloomingdale's at the time) other than to say that they were similar leaders. Garro describes Traub and Schann as being the type of leaders who challenge subordinates to continually look for new ways to make a better store. Traub is presented as having a drive to succeed at all things and he says that this is the same way he approaches his work. Garro discusses the Bloomingdale's business style as being merchandise driven as compared to consumer driven, though he does not consider the two as being so different. A discussion of fashion as being about different lifestyles leads to a discussion on Ralph Lauren's designs being fashionable yet traditional. As this was a period when the baby boomer generation was coming into its professional peak, Garro addresses the laid-back business approach of others in his generation, explaining that he as well as his peers are perhaps exceptions. As Senior VP and General Manager of the Men's, Boy's, and Children's divisions at Bloomingdale's, Garro offers insight into the challenges each department faces. He also predicts huge growth in the infant/ toddler division. Finally, Garro addresses the importance of assigning the right person to the right job and this leads to an exploration on the recruiting and staffing at Bloomingdale's. He describes the ideal recruit as someone who is driven, independent, and quick to respond. Garro states that a "thirst for a cultural background is more important than the actual cultural background."
Garro, Dennis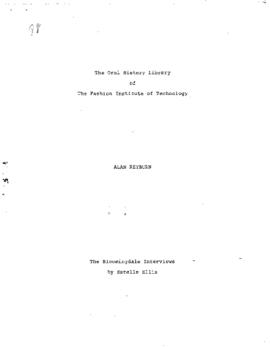 Alan Reyburn interview, 1987 January 16
In this interview, Alan Reyburn talks about restuaranteuring in the context of the retail world. Reyburn ran all food operations at Bloomingdale's during the 1980s, including staff restuarants. After briefly describing his past hospitality job working for a cruise line, Reyburn explains that New York City is a restaurant city and the Bloomingdale's client is someone who considers food and dining to be part of the fashionable lifestyle. Reyburn attributes Bloomingdale's Marvin S. Traub for having the total vision that included food operations as part of the Department Store's success. Most notable among Reyburn's projects while at Bloomingdale's was Le Train Bleu, a rooftop restuarant designed to look like the luxury train used by travelers going between Paris and the Mediterranean. Reyburn shares a number of anecdotes about the inception, operation, and overall concept of Le Train Bleu. As Bloomingdale's was one of the few department stores to have its own restuarant at the time, Reyburn explains the challenges specific to running a restaurant within a retail environment. In regards to service, Reyburn believed that good service in the restaurant was even more important to the Bloomingdale's client than good service on the sales floor. Having traveled with Traub for business, Reyburn describes the Bloomingdale's CEO as being indefatigable, an adventurous eater, and keenly aware of his surroundings. He also describes Traub as having more vision than most retailers, seeing a broader picture and having a shorter temper.
Reyburn, Alan