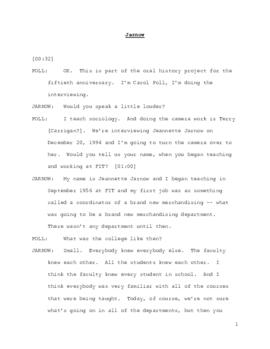 Jeanette Jarnow interview, 1994 December 20
Jeannette Jarnow, former Chair of the Fashion Buying and Merchandising Department (FBM), discusses the small and intimate nature of FIT when she joined in 1956. She discusses the founding of the school by Morris Haft, Virginia Pope, and a handful of fashion industry insiders. She then describes the birth of the FBM department thanks to an endowment by Bergdorf Goodman as well as close relationships with Lord & Taylor, Abraham and Strauss, and Bloomingdale's. Jarnow touches on influential people from each department store and then goes into the student demographic make-up of the 1950s. Jarnow describes the changes at FIT over her 38 year career such as the former dress code. She then describes fundraising events and field trips to wholesalers and retailers. Jarnow also remembers famous speakers coming to the school such as Yves Saint Laurent and Givenchy. She recalls that Virginia Pope used to take students to the opera and other public events to experience fashion and culture. Jarnow briefly touches on her time as Chair and describes the publication of her book, "Inside the Fashion Business." Jarnow also emphasizes FIT's international reach and the vast array of career options alumni have experienced. Finally, she mentions the Oral History of FIT taken by Mildred Finger which was housed in the library.
Jarnow, Jeannette A.