Affichage de 3 résultats
Description archivistique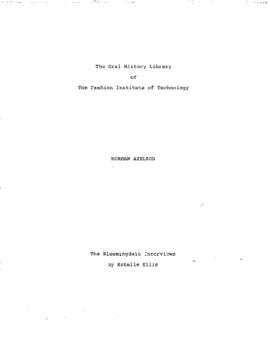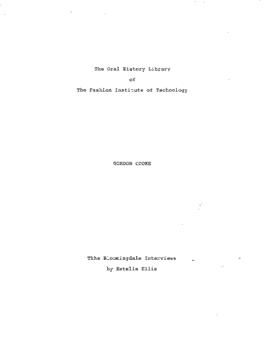 Gordon Cooke interview, 1986 November 5
This interview takes place at a time when Bloomingdale's President Marvin S. Traub was being awarded the "Person Who Makes the Difference" award from the Fashion Institute of Technology. Gordon Cooke discusses the various ways in which Traub's style of leadership and business has made a difference in Bloomingdale's success not just as a department store but as an innovator in the world of promotions and business relations. Cooke uses Bloomingdale's country promotions as examples of Traub's creativity and insight regarding promotions. Cooke discusses the team-syle development of ideas, describing the equal value placed on promotions, design, sales, etc. as being instrumental in the creative development of Bloomingdale's. Cooke credits Bloomingale's with opening up trade with various countries before even the U.S. government had fully developed trade with these countries. Finally, Cooke talks about Traub's collaboration with both established and cutting-edge artists in advertisements and promotions.
Cooke, Gordon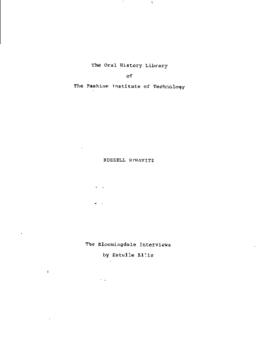 Russell Stravitz interview, 1987 January 16
In this interview, Stravitz focuses mostly on the challenges and successes he has faced in trying to expand the Bloomingdale's model into other markets. In doing this, he covers the importance of paying attention to each market's regional needs as well as ways in which marketing can be tailored to suit a particular market, culturally. At the same time, Stravitz explores what the New York store represents and how that can be carried through in other markets. A larger discussion of the crossover between department stores and specialty stores looks at what makes Bloomingdale's especially strong in both categories. As an example, Stravitz talks about the two "Bloomie's Express" specialty shops which Bloomingdale's had launched at JFK airport a few months before this interview. Stravitz describes the Bloomingdale's customer, across all markets, to be sophisticated, well-traveled, fashionable, and possibly affluent. In discussing his direct boss, Bloomingdale's CEO Marvin S. Traub, Stravitz describes him as deeply caring about the people he works with. He argues that Traub's personal concern for the business as well as the people connected to it result in high expectations as well as a supportive work environment. Traub's encouragement to try new things and his willingness to take the risk and support these ventures, Stravitz suggests, are what make Bloomingdale's an especially creative and entrepreneurial place.
Stravitz, Russell