Showing 3 results
Archivistische beschrijving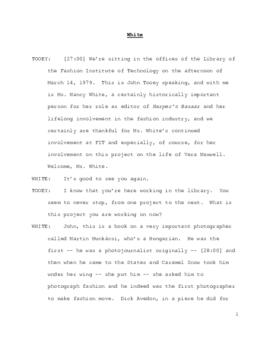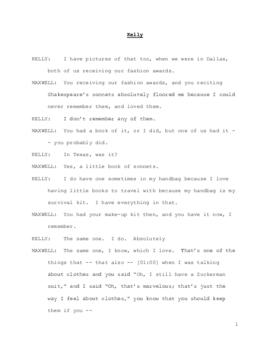 Conversation between Grace Kelly and Vera Maxwell, with an interview of Kelly by John Touhey
This interview consists of two main portions, the first being a casual conversation between Vera Maxwell and Princess Grace while looking at a photo album. The second portion is a formal interview by FIT's John Touhey with Princess Grace.
In the first portion, Maxwell and Princess Grace reminisce on their times together in Switzerland and their mutual love of tweed. The photo album prompts conversation regarding the accelerating rate of change in fashion, various hemlines, and fashionable silhouettes. The loose fitting styles popular at the time of the interview prompt Maxwell to repeatedly mention classic tailoring and body types. Press coverage of the fashion industry as well as coverage of Princess Grace's style is also discussed.
In the formal interview with John Touhey, Princess Grace describes her relationship with Vera Maxwell and then moves on to discuss trends in women's fashion and how they relate to personal style. She mentions her particular distaste for the "sack look" (likely referring to the gunney sack dress) and mini skirts, both popular styles at the time of the interview. Dior, Saint Laurent, Ben Zuckerman, and Vera Maxwell are all mentioned as favorite designers. An American film actress before becoming the Princess of Monaco, Kelly often had a large hand in developing her film costumes and she discusses working with costumer Edith Head while filming with Alfred Hitchcock.
There is also an interview with Nancy White about 2/3rds into the transcript.
Maxwell, Vera, 1901-1995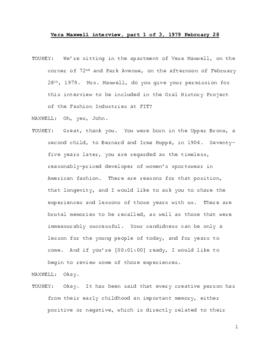 John Touhey interviews Vera Maxwell over several days in the winter of 1979 about her childhood, her entry into and experiences in the fashion industry, as well as where she sees it going.
Maxwell, Vera, 1901-1995