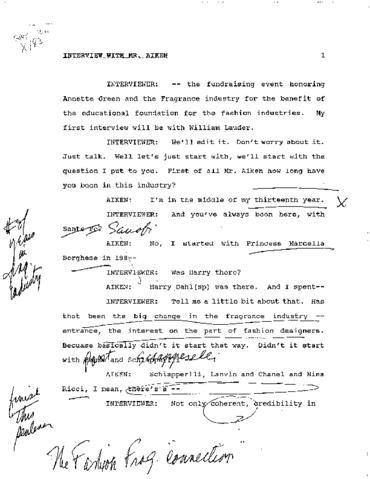 Zona de identificação
Código de referência
US NNFIT SC.FITA.3.20.4.9.6.5
Título
Lawrence Aiken interview, 1993 August 26
Data(s)
1993 August 26 (Produção)
Zona do contexto
Nome do produtor
História biográfica
President and CEO of Sanofi Beaute, Lawrence Aiken began working in the fragrance industry in 1980.
Nome do produtor
(1919-2012)
História biográfica
Estelle Ellis was born on November 12, 1919 in Brooklyn, New York. After graduating from Hunter College in 1940, with a Bachelor of Arts degree in Political Science and a minor in Journalism, Ellis began a career in publishing. Ellis was crucial in the founding of Seventeen magazine in 1943, assisting Helen Valentine with design and advertising for the magazine. In 1958, Ellis founded Business Image, Incorporated, a creative marketing firm that stressed the importance of market and product positioning. Her company worked primarily with Condé Nast publications but other businesses, such as Yves Saint-Laurent Fragrances, Evan-Picone, AT&T, and Scoville, hired Business Image as well. Beginning in the mid-1960s, Ellis began working with the Fashion Institute of Technology, creating programs and fundraising campaigns to help with financial support. During the 1990s, Ellis focused on writing, co-authoring At Home with Books: How Booklovers Live With and Care for Their Libraries (1995), At Home with Art: How Art Lovers Live With and Care for Their Treasures (1999), and The Booklover's Repair Kit: First Aid for Home Libraries (2000). Estelle Ellis passed away on July 12, 2012.
Fonte imediata de aquisição ou transferência
Zona do conteúdo e estrutura
Âmbito e conteúdo
Interview of Lawrence Aiken, President and CEO, Sanofi Beaute about Annette Green and the Fragrance Foundation, 1993 August 26
Avaliação, selecção e eliminação
Recording skips frequently. Much of the interviewer's questions are intact, but Mr. Aiken's responses are not.
Zona de condições de acesso e utilização
Características físicas e requisitos técnicos
Instrumentos de descrição
Zona de documentação associada
Existência e localização de originais
Existência e localização de cópias
Unidades de descrição relacionadas
Zona das notas
Nota
Digital and written notes indicate that this interview was originally part of a larger recording that includes the James Preston, Jeanette Wagner, and Lawrence Aiken interviews (legacy audio object ID AOH180 and AOH180a), however the recordings only have the interview of Lawrence Aiken. The interviewer, Estelle Ellis, also mentions an interview with a William Lauder, which we do not have.
Identificador(es) alternativo(s)
Pontos de acesso
Pontos de acesso - Assuntos
Pontos de acesso - Locais
Pontos de acesso de género
Zona do controlo da descrição
Identificador da descrição
Identificador da instituição
Regras ou convenções utilizadas
Datas de criação, revisão, eliminação
Objeto digital metadados
Nome do ficheiro
US.NNFIT.SC.FITA.3.20.4.9.6.AOH180.AikenLawrence.Transcript.pdf
Tamanho do ficheiro
350.7 KiB
Transferido
17 de novembro de 2018 11:11
Objeto digital (Mestre) zona de direitos
Objeto digital (Referência) zona de direitos
Objeto digital (Icone) zona de direitos